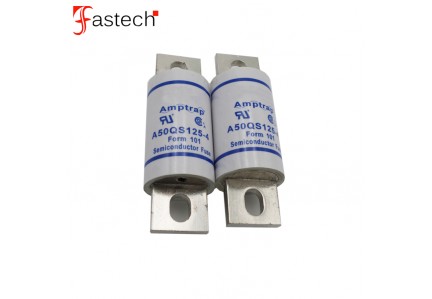 New and Original 500V A50QS125-4 Semiconductor Protection fuses
Product details
A50QS Amp-Trap? Form 101 fuses grew out of the need to improve the overall performance of semiconductor fuses in response to new equipment requirements. The A50QS encompasses the best protection features ¨C lower I2t to provide better protection for equipment, longer life when subjected to cyclic loading and lower watts loss. A50QS is today¡¯s best choice for the protection of dynamic solid state equipment such as motor drives, inverters, UPS, etc.
Features/Benefits:
? Lowest I2t for greatest protection of semiconductor circuits
? Low watts loss for cooler operation
? Superior cycling ability gives an equipment design advantage
? State-of-the-art protection for 500V equipment
? Ultra compact sizes allow down-sizing of existing equipment

Highlights:
? 500V AC/DC rated
? Lowest I2t
? Low watts loss
? Superior cycling ability

Applications:
? Protection of 500V or less motor drives, UPS, inverters, etc.
Ratings:
Volts : 500VAC / DC
Amps : 35 to 60A (AC) : 70 to 1200A (AC) : 35 to 1200A (DC)
I.R. : 200kA I.R. AC : 87kA I.R. DC
Approvals:
? UL recognized component UL File 60314
? AC: UL guide no. JFHR2
? DC Tested to UL standard 198L parameters (70-1200A)
? CSA Certified LR12636