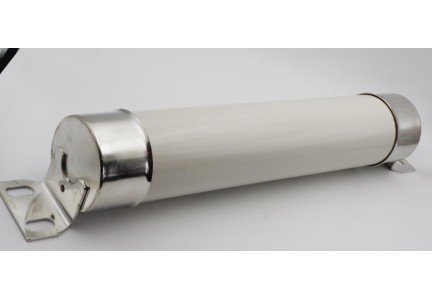 Ferraz Motor Protection Fuse 300A 5.08KV A051B1DARO-19R Amptrap Motor Circuit
Product details
5.08kV, 7.2kV and 15.5kV
Bolt-In fuses:
Mersen R-Rated fuses are current-limiting, high interrupting rating fuses intended
for the short circuit protection of medium voltage motors and motor controllers.
R-Rated fuses are back-up fuses that have a minimum interrupting rating, and must
be coordinated with overload relays in combination motor starters. The motor starter
manufacturer generally specifies the R-Rated fuse size. These fuses are single,
double, triple or quadruple barrels 3 inches diameter with end mounts designed for
bolting directly to equipment bus or terminal pads.
Features/Benefits:
? The Amp-Trap Bolt-in series are UL Recognized.
? Bolt-in mounting for direct connection to bus or terminals.
? Current-limiting for superior equipment protection.
? Metal embossed catalog number and manufacturing date for lasting identification.
? Blown-fuse indicator to give positive identification of open fuse.
Amp-Trap: 3¡± Barrel 2 lb tripped force - 0.50 Inch